Cataracts
Cataract Surgery
Your eye has a clear lens through which light passes, allowing you to see. When the lens loses its transparency, the cloudy tissue that develops is known as a cataract.
Cataracts cause progressive, painless loss of vision. The lens clouds naturally as we age so anyone who lives long enough will eventually see a gradual reduction in vision.  Most people over the age of 65 have some degree of clouding, or cataract but the degree or severity is quite variable. No one is exactly sure what causes cataracts. In younger people they can result from an injury, certain medications, or illnesses such as diabetes. Prolonged exposure to ultraviolet light may also play a role in the formation of cataracts. Studies have also shown that people who smoke cigarettes have a higher risk of developing cataracts than non-smokers.
Although cataracts usually develop without apparent pain, some indications that a cataract may be forming are:
Blurred or hazy vision
Double vision
Poor vision in bright light

Seeing halos around lights
Yellowish tinged vision
Night vision difficulty
If visual impairment interferes with your ability to read, work, or do the things you enjoy then you will want to consider cataract surgery. Surgery is the only proven means of effectively treating cataracts. Cataract surgery is a relatively painless and is one of the most frequently performed procedures. It has a very high success rate and more than 98 percent of cataract surgery patients will demonstrate an improvement in their vision.
Cataract surgery is an outpatient procedure.  The actual surgery is usually only about ten minutes in duration and modern technology allows the surgery to be performed through an incision only about one eighth inch in length.  The self sealing incision usually does not require stitches.  Patients are made comfortable during the procedure through the use of a small amount of relaxation medicine and topical numbing drops.  Patients usually see some colored lights during the procedure but cannot see the actual surgery.  After a short stop in a recovery room, patients are permitted to go home.  Recovery is rapid and unless the patient has a very strenuous job, they can expect to go back to their normal routine in just a day or two.
Laser Cataract Surgery
Although micro-incision cataract surgery is an extremely safe and predictable procedure, patients in the Raleigh NC area can avail themselves to the latest advancements in cataract surgery technology. Laser cataract surgery with the LensSx laser has led to an even more precise surgical method  to remove cataracts.. By using a laser to perform certain steps of cataract surgery, Drs. Dornic and Li are able to increase the accuracy of the procedure for patients desiring an enhanced refractive outcome while reducing treatment time.
Laser cataract surgery involves the use of a femtosecond laser, the same type of laser used in blade-free LASIK surgery, to perform specific steps of the procedure. Specifically, the femtosecond laser eliminates some of the need for handheld surgical blades and reduces the amount of time an ultrasonic probe is used to break up the cataract.  Laser cataract surgery offers a more precise refractive procedure and outcome than standard cataract surgery.  Patients who wish to reduce their dependence on eyeglasses may want to opt for refractive or laser cataract surgery.
---
Lens Implants
Because cataract surgery involves the removal of the patient's cloudy crystalline lens, a vital part of the surgery involves replacement with an artificial lens (implant).  A wide range of replacement lenses are available to cataract patients, each offering different advantages for post-surgery vision. The most effective lens to use depends on the patient's individual preferences and goals for their vision. The lenses eliminate the need for glasses or contacts after cataract surgery, providing most patients with convenient, effective results for their specific vision conditions.
---
Crystalens and Trulign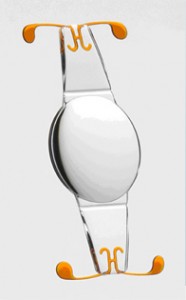 Crystalens™ is a new cataract replacement lens (IOL) that works naturally with muscles in the eye to retain the eye's ability to "accommodate" – shift focus between nearby and distant objects – after cataract surgery. It is the first FDA-approved accommodating lens.  With other IOLs, patients lose this ability and require corrective measures such as glasses or contact lenses.  With Crystalens can treat both cataracts and presbyopia.
The new Trulign lens is a Crystalens that also corrects astigmatism.
Unlike rigid lenses, the flexible silicone Crystalens features hinges that allow it to move with the eye's muscles and accommodate seamlessly, thereby reducing or eliminating the need for vision correction.
The Crystalens is implanted using the same, nearly risk-free cataract surgery techniques as with other IOLs.
Most people with cataracts or who have had corneal refractive surgery and retained good eye health are acceptable candidates for Crystalens implantation, but those who have already had cataract surgery are not. People with eye health problems such as chronic infections or diabetes should check with their doctors about eligibility.
---
ReZoom™ Lens
ReZoom™ multifocal IOL helps patients focus clearly on objects at a range of distances and in varied light conditions. Featuring a patented lens design called Balanced View Optics™ Technology, the ReZoom lens has five spherical segments with smooth transitions in between so the eyes focus seamlessly from one distance to the next. The center of the lens is optimized for bright light and distance vision, while the fourth zone supports near-vision in a variety of light conditions, and the outermost zone accommodates for low-light distance vision (such as when driving at night). The ReZoom is also specially designed to reduce internal reflections and minimize glare.
If you have been diagnosed as having cataracts and are experiencing one or more of the following vision problems, you may be a candidate for the ReZoom multifocal IOL:
Difficulty reading
Difficulty seeing close objects
Difficulty driving, especially at night

Frequent changes in glasses prescription
Need for bifocals
---
ReSTOR® Lens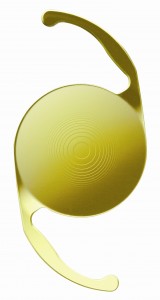 The ReStor IOL is a bifocal implant.  It's design gives it the ability to focus light correctly on the retina for images at various distances without mechanical movement of the lens.
Candidates for ReSTOR® Lenses
Anyone who is dependent on reading glasses or bifocals may be a candidate for ReSTOR implant surgery. Although ReSTOR lenses were originally designed for patients with cataracts, having cataracts is not necessary to qualify for the ReSTOR lens; you only need a desire to restore eyesight at a range of distances without corrective eyewear. People with chronic infections, uncontrolled diabetes, or other health problems may have to wait until these conditions are under control prior to surgery.
Astigmatism Correcting Implants
The good new for patients undergoing cataract surgery who also have astigmatism is that new high technology intraocular lenses can be used at the time of their cataract surgery to correct their vision.  For the patient, correction of astigmatism at the time of cataract surgery is no more difficult than cataract surgery alone.
Cataract Surgery After LASIK Eye Surgery
Cataract surgery after LASIK, PRK RK and other vision correction surgeries are a special circumstance.  Picking the correct power of intraocular lens to be used during cataract surgery after previous eye surgeries can be challenging because most of the lens formulas used to determine IOL power are based on findings of "virgin eye" ie eyes that have never had surgery. If you have had previous vision correction surgery such as LASIK, PRK or Refractive Keratectomy (RK), than your surgeon may recommend our Custom Vision package. Our Custom Vision package includes the use of a technology called ORA with VerifEye, a real-time surgical measurement tool that allows the surgeon to precisely choose the correct lens implant power and placement during surgery.  The added use of ORA allows the surgeon a better chance at reaching better vision results.
Cataract Surgery Benefits
New technology has made cataract surgery safer and more successful.  For most patients, cataract surgery is a 10 - 15 minute procedure done on an out patient basis.  It is a once in a lifetime procedure with real benefits.  Patients who choose to take advantage of new technology lenses, new diagnostic tools such as ORA and laser assisted surgery can also realize greater independence from glasses.  Let us show you the benefits of laser cataract surgery and help you choose the procedure and implant that is right for you.